Solution Overview
Veterans represent a significant and valuable part of the talent market. As more than 360,000 veterans enter the job market each year, their talent provides huge opportunity for employers. However, the transition to civilian careers from the military poses a unique set of challenges.
With less experience navigating the traditional job search process, veteran candidates are less accustomed searching for jobs, interpreting corporate jargon, decoding job requirements, and translating their military experience to the civilian equivalents.
In order to address these challenges, the Adverto Solution was created to give veterans a platform where they can discover employers who value military experience and search for relevant opportunities using their military occupational codes (MOC).
MOC JOB SEARCH
Power Your Job Search With AI and ML
Empower veterans to search your jobs using their Military Occupational Codes while leveraging Machine Learning and Artificial Intelligence to deliver the most accurate results.
Enhancing the job search experience will generate great seeker engagement and fill your talent pipeline with more veteran applications.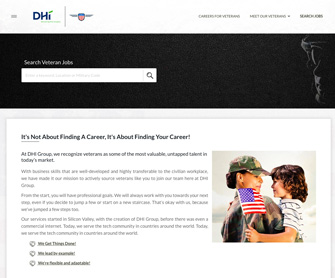 VETERAN EMPLOYER BRAND
Become A Veteran Employer Of Choice
Veterans have shared experiences and qualities that influence what they look for in an employer. They crave the satisfaction of meaningful work in organizations with strong team dynamics, missions they feel connected to, and clear, transparent career opportunities.
Working with us, we'll help you define a compelling employee value proposition that resonates with veterans.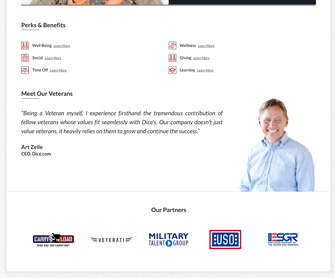 COMPELLING VETERAN CONTENT
Publish Authentic Storytelling Content
Once your employer brand has been developed, the Advertorians will assist you in creating authentic and compelling content to reinforce your messaging and convert veteran candidates to applicants.
The Adverto Solution successfully balances corporate and ambassador content to tell a truly genuine story.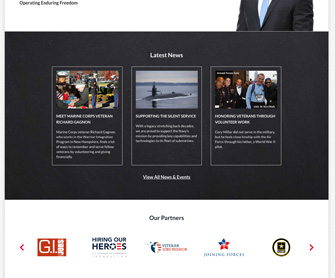 UNLIMITED CONTENT UPDATES
Keep Your Veteran Solution Up-to-date
There are no limits to the number of requests you submit, whether you want to add a testimonial, publish news, promote an event, or simply request some changes to the copy. Your solution comes with unlimited content updates.
Keeping your microsite up-to-date with current content will attest to your commitment to veteran talent. We encourage you to sustain the narrative, which is why we waive our service fees.

DHI Group launched their Veteran Hiring Solution to position themselves as a Veteran Employer of Choice.
The solution allowed them to increase their Veteran Talent Pipeline and have meaningful dialog with Veterans.