Solution Overview
Employer brand describes your organization's identity as a place to work. It represents your employer reputation and value proposition to its employees, the same way a corporate brand describes your value proposition to customers.
Organizations tend to miss the mark by viewing employer branding as an advertising pitch, not a branding exercise. To create a meaningful and authentic employer brand, you need your messaging to be rooted in employee experience research and supported by relevant proof points.
Working with Adverto, we'll help you define who you are, what you stand for, and the collective behaviors that make up your culture so you can engage the right talent.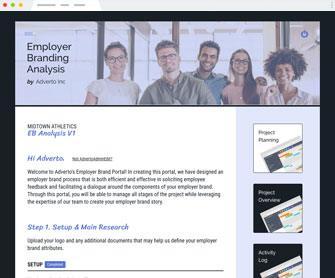 ENGAGING YOUR TEAM
Analyze Your Brand From The Source
We support you in selecting a team of employee ambassadors and stakeholders to truly understand the employee experience at your organization.
Through a short and secure questionnaire, we survey ambassadors to uncover the unique qualities that define you as an employer.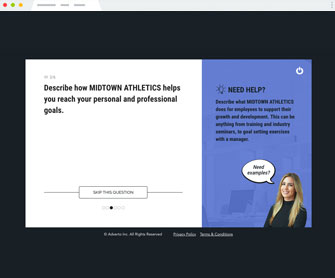 SURVEY FEATURES
Manage Your Project Effectively
Our self-serve platform enables you to manage your project activities, review employee feedback and define a timeline that works for your organization.
Our platform enables you to review, manage and approve each step of the project ensuring an efficient process and quality outcome.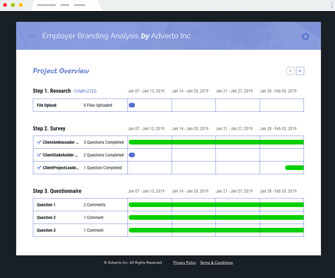 MEANINGFUL DIALOGUE
Provoke Dialogue Between Stakeholders
We facilitate a structured stakeholder discussion via our platform to explore your brand in more depth. Using thoughtful questions related to your culture and employee value proposition, we provoke collaborative discussions to refine your messaging.
The Adverto Solution successfully balances corporate and ambassador content to tell a truly genuine story.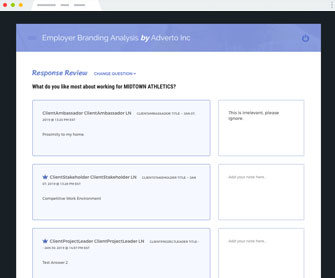 ANALYSIS & DELIVERY
Validate Our Proposed Employer Brand
Following the ambassador and stakeholder discovery, we articulate and present our employer brand analysis. In this session, we collaborate with you to discuss the discovery results and insights, the articulated brand elements and any desired adjustments.
Once the brand messaging has been revised and finalized, we publish it on your career site.

Creative Foods defined their Employer Brand to appeal to prospective applicants, and better engage current employees.
With a focus on employee testimonials, their career site received rave reviews building a strong pipeline of informed and engaged applicants.